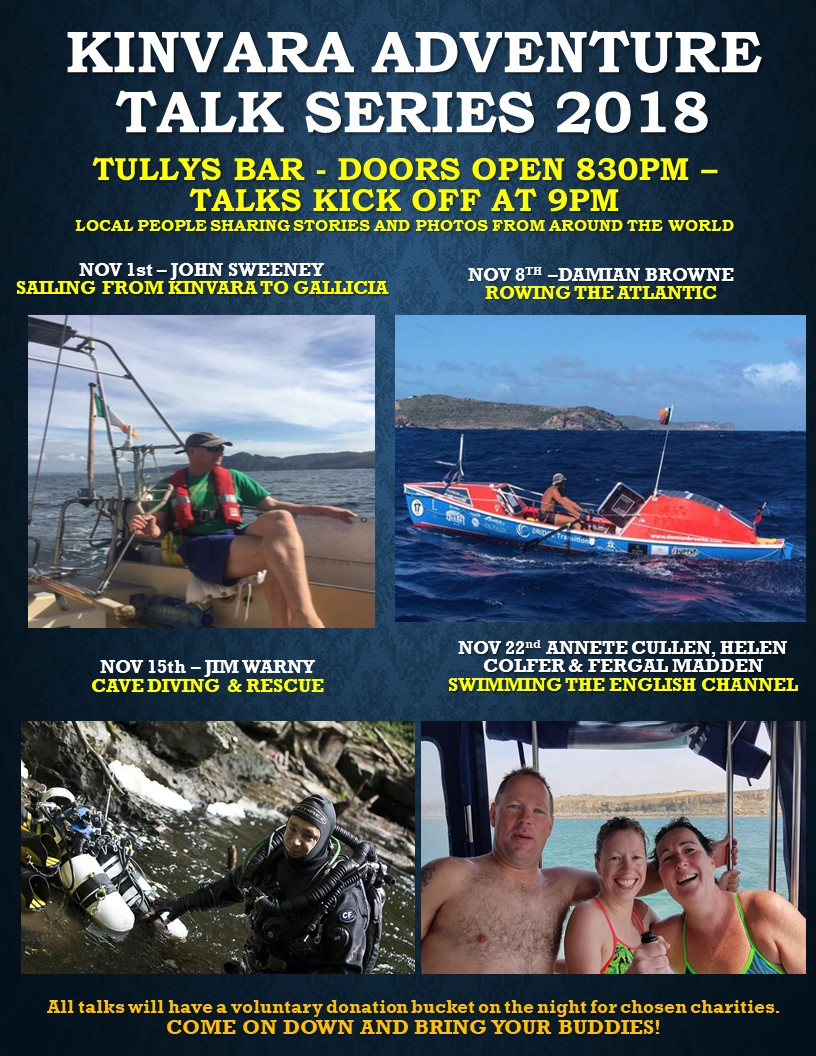 The Kinvara Adventure Talks Series 2018 is happening every Thursday in November. Once again we have high calibre speakers each Thursday in Tully's Bar in Kinvara, including sailors, rowers, divers and swimmers. A profile of each speaker can be seen below. Doors open at 8.30pm, talks begin promptly at 9pm. Ensure you are there in plenty of time as last year each week was really popular. See you there!
JOHN SWEENEY – SAILOR (1st Nov) In June 2018 John Sweeney set off to sail the 700 miles from Kinvara to Gallicia in his family yacht, a 1979 Sadler called 'Island Lass'. They planned on getting away from the usual pressures of modern day life. This is an honest tale of how tragedy and sadness has brought hope and happiness to his family
DAMIAN BROWNE – ADVENTURER (8th Nov) Damian is a former professional rugby player who player for teams including Connaught and Leinster. Now focusing on adventures which push the body to its limits, Damian is going to share the highs and lows of rowing across the Atlantic in 2018. Overcoming storms, capsizes and breaking his self-steering gear, he managed to successfully row the 4,800 km from the Canaries to Antigua in 63 days. Damian is a real example of pushing yourself mentally and physically to achieve your goals.
JIM WARNY – CAVE DIVER (15th Nov) Jim Warny was born in Belgium in 1982. He started diving in 1997 and soon got attracted by the technical side of the sport. He modified and built custom diving equipment to enable him to progress deeper in to caves. He has participated in multiple expeditions in France, Italy and recently in the Huautla cave system in Mexico. But when Jim moved to Ireland in 2004 he truly found his calling in the dark caves and resurgences in the Galway/Clare region. Following in the footsteps of previous explorers Jim extended explorations in various sites amounting to many kilometres of new cave. One of these being the longest sump in Ireland amounting in a 2.9Km dive (Located only a few kilometres from Kinvara). He continues to be very active in the Irish cave/cave diving scene. In June of 2018, he was part of the team of British cave divers who played a leading role in th